SOCOTEC Group Executive Team at the extension of the L9 Metro line
Thu 09/11/2023 - 20:31
The SOCOTEC Group leadership team had the chance to visit one of the most important infrastructure projects where SOCOTEC is serving as project manager.
During the visit, the team saw firsthand how SOCOTEC is implementing the geotechnical plan, using sensors (Tunel Data) to monitor the project with BIM, and conducting quality control campaigns by inspecting and testing the construction systems for the new L-9 line section.
Under the guidance of Ferran Biosca, the technical director of the project, the SOCOTEC team traveled to the Zona Universitaria pit, which provides access to the gallery where the tunnel boring machine is currently operating, at a depth of about 30 meters.
The construction of the L9 del Metro Project, the longest in Europe at 47.8 km, with 43.7 km underground, is a major engineering feat. When completed, the new L9 and L10 lines will add 48 km of metro to Barcelona and its metropolitan area, with 50 stations and 17 interchanges.
The tender acquired in 2021 by SOCOTEC together with TPF Getinsa Euroestudios and Tunelconsult, thanks to their experience in infrastructure project management.
Tunnel Boring Machine in action
The Hospi tunnel boring machine, built by Herrenknecht, is currently working on the two-kilometer section between Sarrià and Lesseps. It is advancing at an average of six to seven meters per day
The drilling-construction process:

The mechanics of the work are always the same: the machine drills only two meters continuously thanks to the force of the jacks. The tunnel is secured with seven concrete pieces that will serve as lining. Depending on the order in which they are placed, the channel will advance straight or turn in some direction. All control is carried out from the control center on the surface, thanks to real-time data from BIM and sensors, the control and safety of the tunnel boring machine can be guaranteed, at depths between 35 and 70 meters.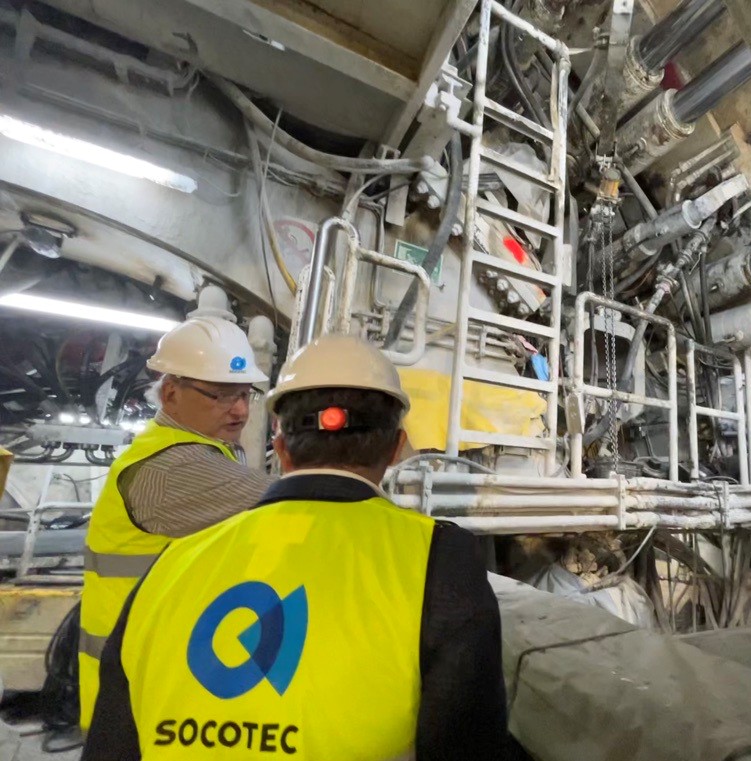 The visit of the SOCOTEC delegation to the works to extend the L9 metro line in Barcelona was an opportunity to see first-hand the progress of this important infrastructure.
The SOCOTEC team was able to verify the magnitude of the work and the cutting-edge technology that is being used to guarantee the safety and quality of the work.